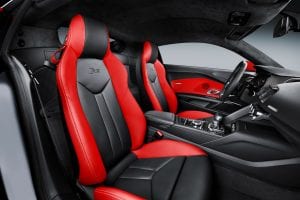 Learn more about one of the fastest cars in the world in this post right here! Today this blog post will be interviewing the 2017 Audi R8 V10 Spyder. This will definitely be a very surprising and shocking but yet very factual at the same time. I really hope you enjoy this incredible post on the Audi R8 V10 Spyder.
Hello today I will be telling you about the 2017 Audi R8 V10 Spyder.
First off it has an incredible 540 horsepower and 7,800 rpm also the Audi has a 5.2 liter. Also this car sells at an amazing price of $177,100. It also is a convertible that can have the top fold down at a speeds of up to 31 miles per hour! This amazing car can also have multiple colors such as… yellow,white,lite blue,red,green,orange,black,grey,silver,aqua,purple,gold,and last but not least dark green.
By the way this car happens to be a sports car with only two seats and one of them (not the driver's seat) can be taken out if that's what you want. And this fact is very illogical the Audi's engine is actually a Lamborghini engine (which makes no sense in my opinion.)  Well I think that raps it up for today! I hope you enjoyed this post!